After a busy summer, including performances at Kendal Calling, Lancaster Pride, Morecambe St George's Day Parade, Manchester Day Parade, Notting Hill Carnival and a second visit to Edinburgh Fringe Festival amongst their gigs, we're getting ready to mark our 15th Birthday!
On 21 September 2019, 17 members will climb Helvellyn and drum at the top. The following day, almost 40 drummers, including past members who have returned for the celebration will repeat our Ingleton waterfall drum of 2013 (pictured below). At 11.00 we will play a set in the car park, before climbing to Thornton Force, where we will play in front of the waterfall. These events are fundraisers for our nominated charity – Mind.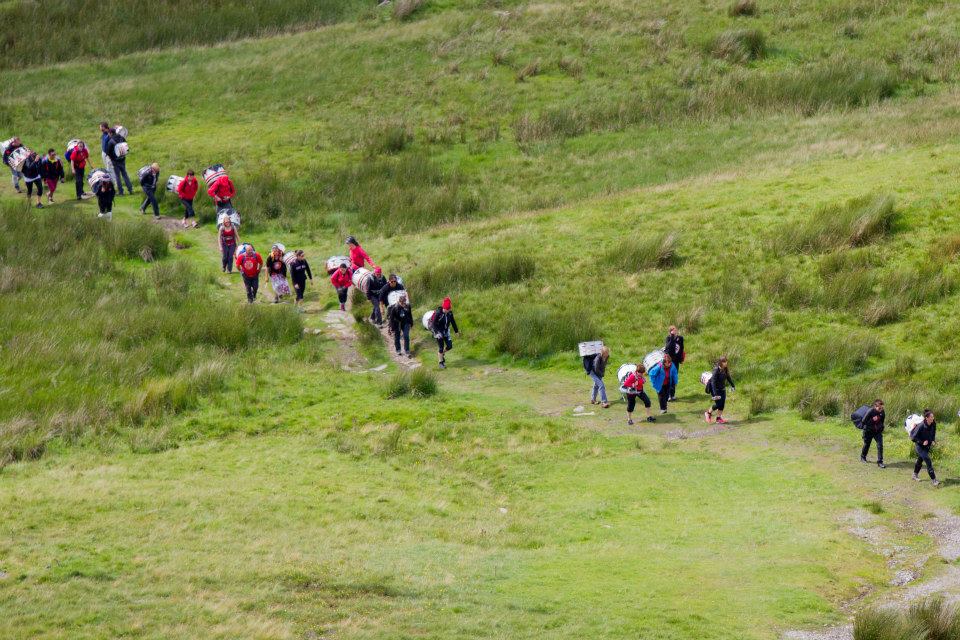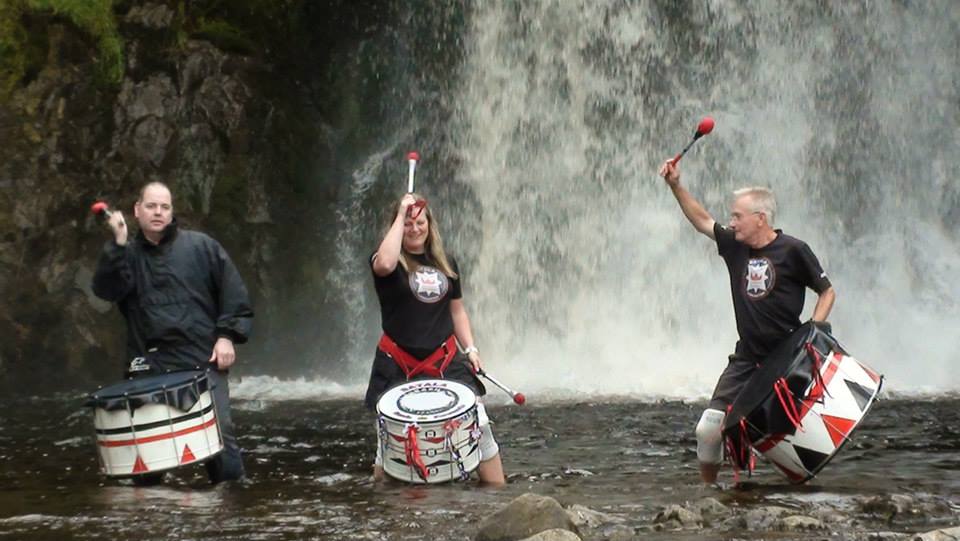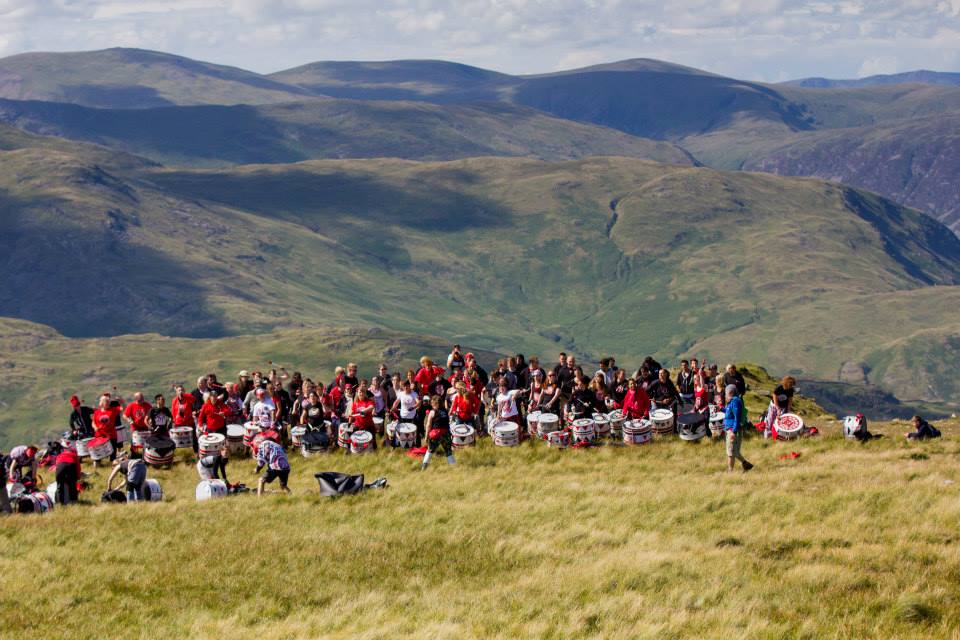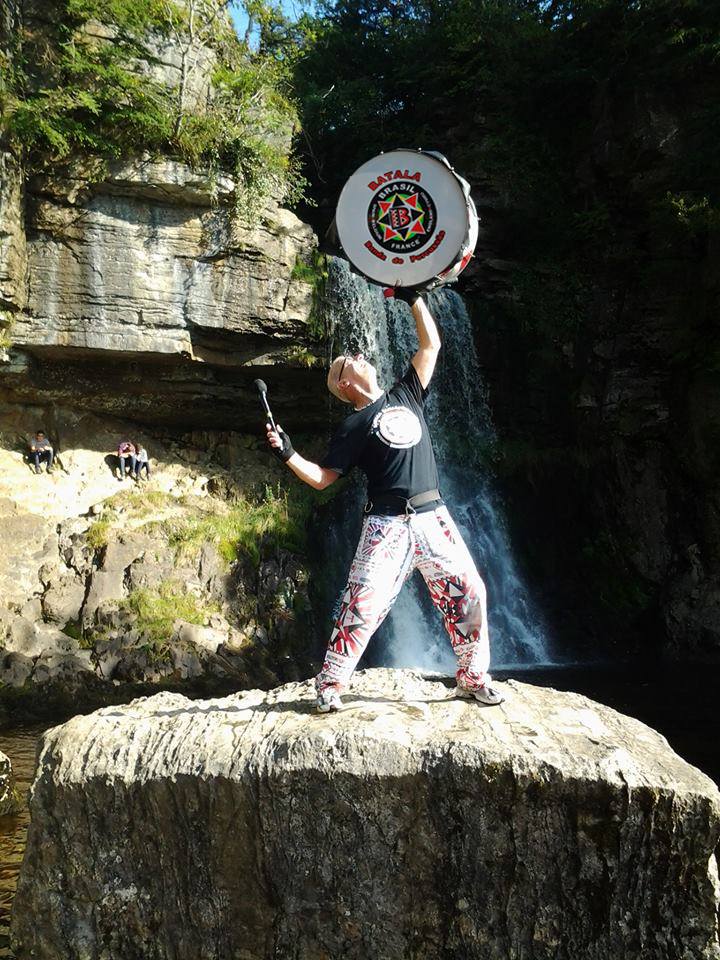 Band member Gordon Fletcher, who has organised the birthday weekend, explained why the band has chosen to mark the anniversary in this way: "In 2010 as a small but growing band Batala Lancaster needed to raise its profile to attract gig bookings and recruits.  With their love of drumming, the stamina to play for 4hrs non-stop at Notting Hill Carnival and our mountainous landscape it was decided that the following year they would attempt to carry drums over the 25 miles of the Yorkshire 3 Peaks, drumming on each one and raising funds for a local charity the Yorkshire Dales Millenium Trust.
"On the 14th May 2011 after months of training nine Batala Lancaster drummers set off to achieve this while the rest of the band held drumming workshops for the local community of the area. That evening the two groups met up on the summit of Ingleborough to hold a celebratory open-air gig on the cloud-covered top, surprising and delighting many walkers.
"As news of this filtered through to other Batala bands, Lancaster gained a reputation for its Adventure Drumming. Other adventures have taken place since then, including taking over 120 international drummers of Batala Mundo to the summit of Stoney Cove Pike in the Lake District to gig with the backdrop of the Helvellyn Range of mountains. A unique and memorable event for all concerned.
An unplanned but valuable effect of these events has been how it has bonded the band together and demonstrated their ability to work and play as an interdependent team."
Batala Lancaster was formed from a Bentham drumming group called Dead Beats founded in 2002. Their leader, Adrian Todd, started travelling to practice with Batala Bangor and fell in love with the band's Samba beats, so in 2004, the group joined the international Batala family. Shortly after, practices moved from Bentham to Lancaster. The band has continued to grow over the past 15 years as part of the worldwide Batala family of over 40 bands, giving members the opportunity to drum at events all over the world.